Delta Systems' Ignition Switches are designed for gas, diesel, or electronic vehicle platforms. Our designs are available in two, three, and four position varieties, and incorporate a snap-in feature for easy installation. All switches have customizable bezels to incorporate different icons for key positions.
Delta ignition switches can be used in any key on 12V applications.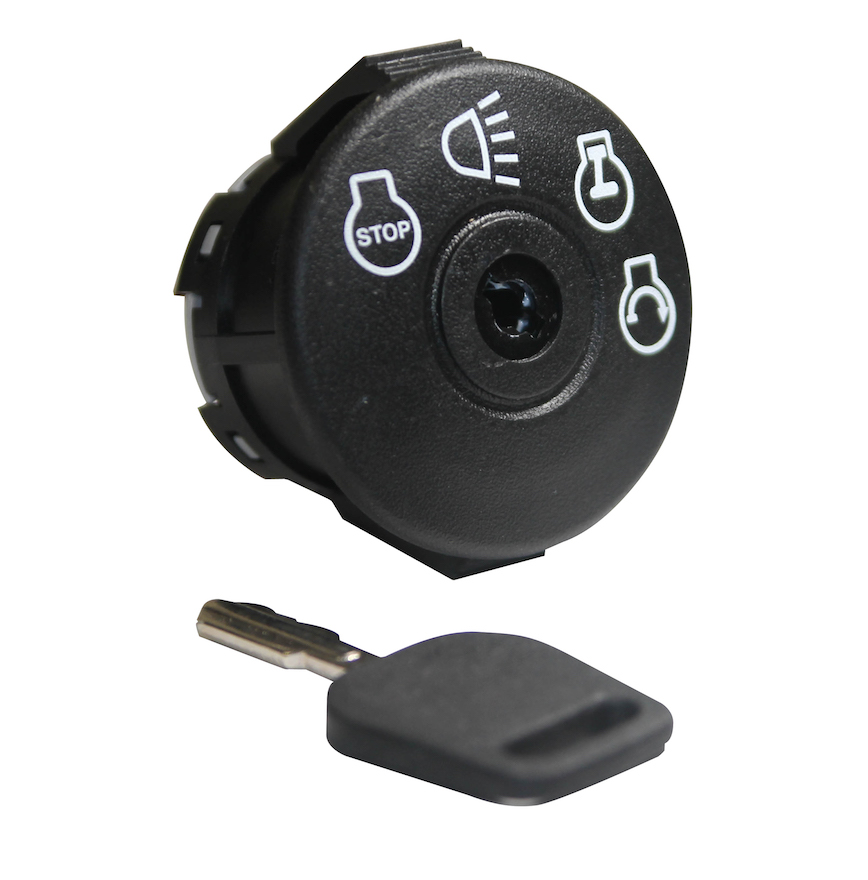 Models:
Push Button
Rotary (Key On)
Push Button ignition Switch
Modern, Intuitive, Easy to Use & IP67 rated
Delta Systems has been supplying the outdoor power industry with key ignition switches for more than 40 years. We now provide a solution for customers desiring an automotive-like ignition switch, that is fully sealed from harsh environments such as rain, ice, snow and debris.
Features & Benefits
Removable actuator controls switch operation
Push-to-Start & -Stop option
Push-to-Start/Pull Fob to kill engine option
Illuminated button when switch is activated
Panel cut out is same as key-on ignition switches
Fully customizable styling
3-year warranty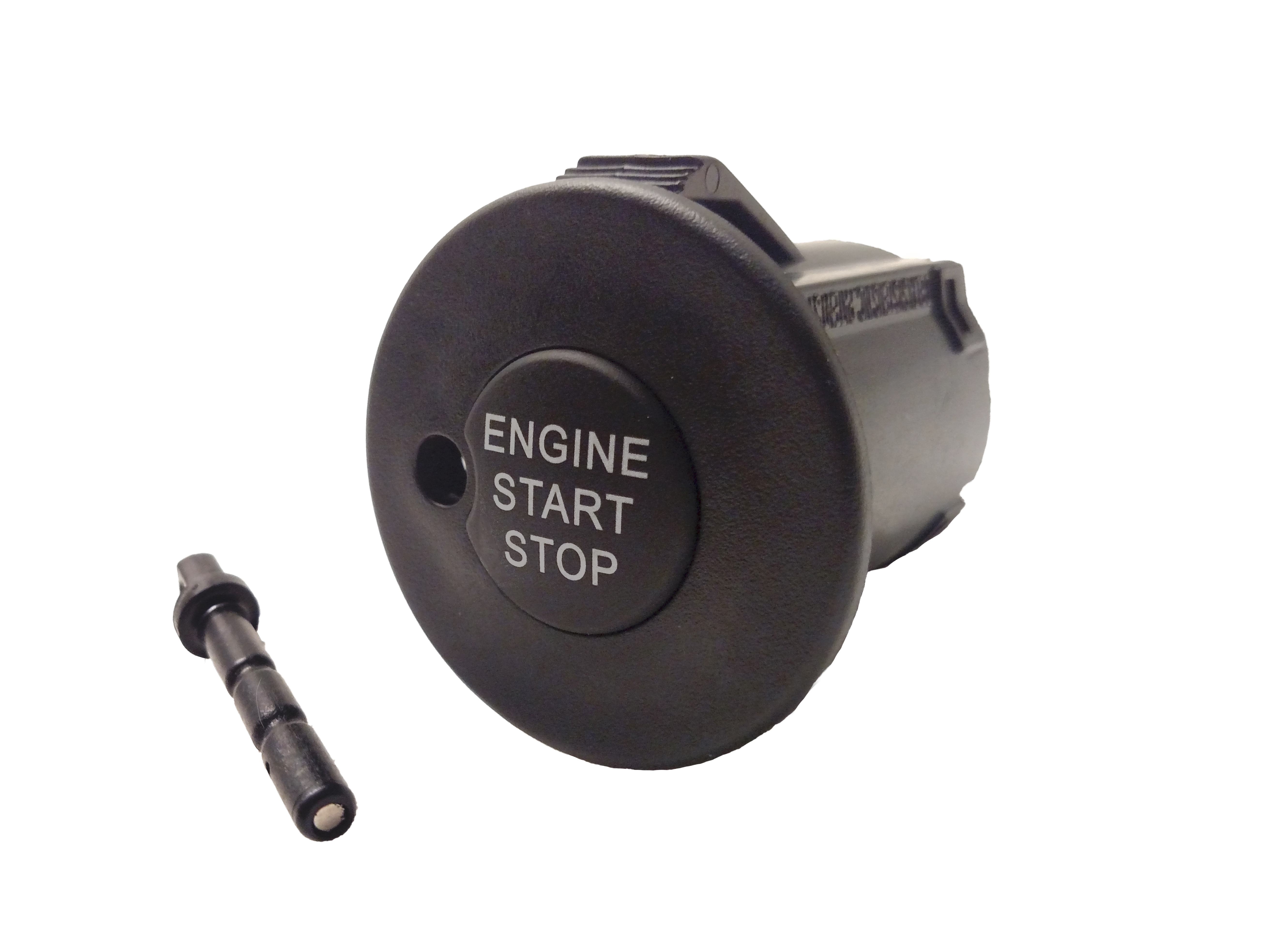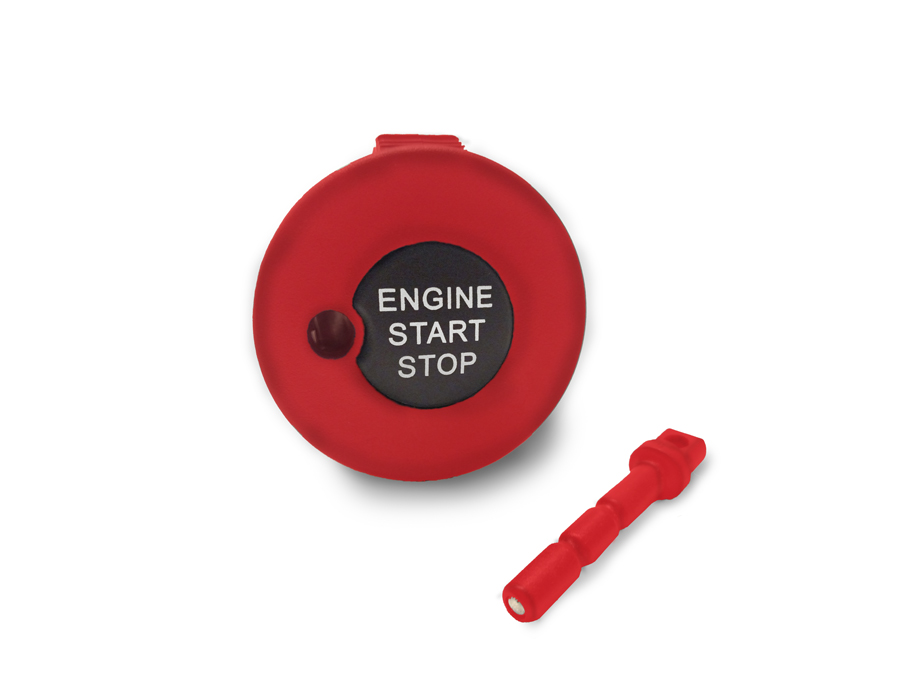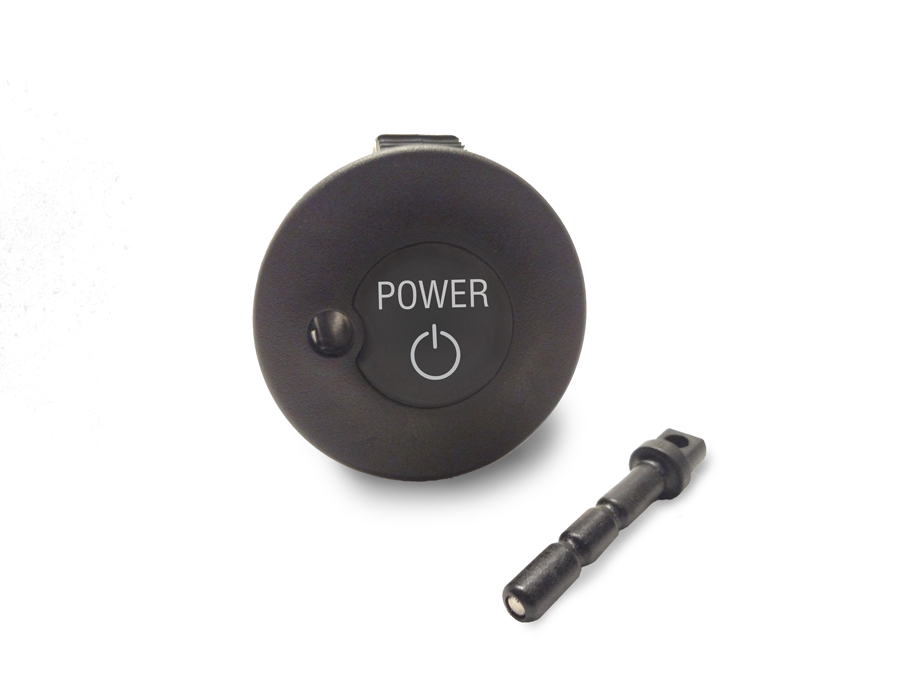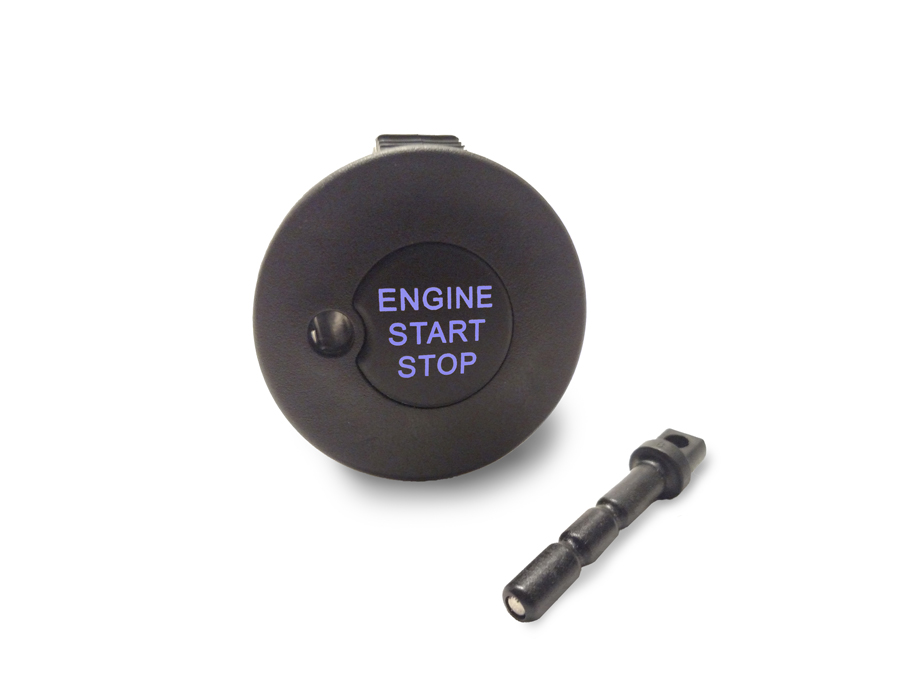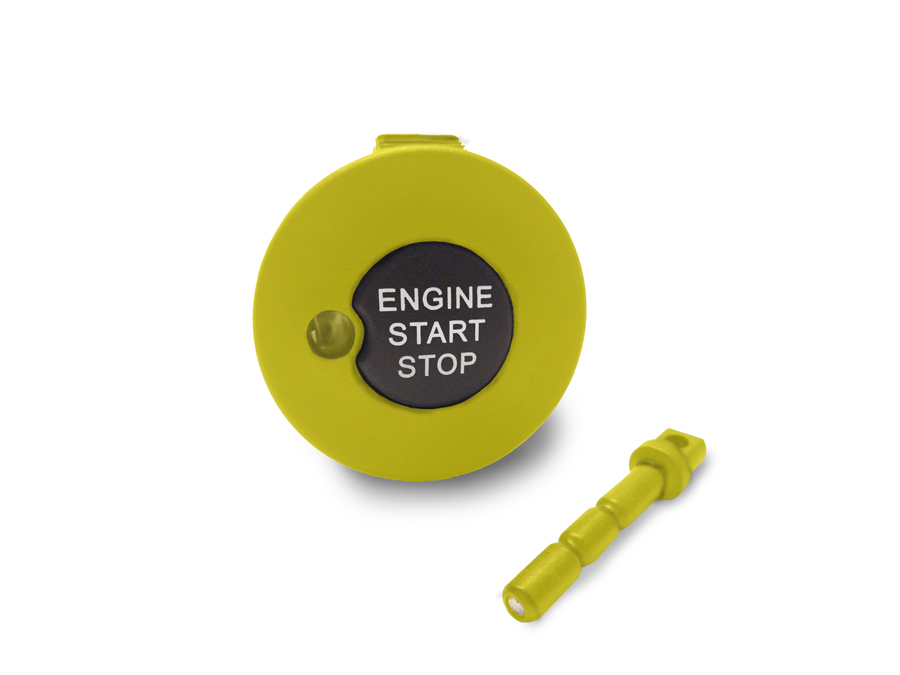 Electrical Specifications
| Attribute | Specification |
| --- | --- |
| Operating Voltage | 9-16Vdc |
| Operating Current | 200mA |
| Reverse Polarity Protection | Yes |
| Operating Temperature Range | -40°F to 180°F (-40 °C to 85 °C) |
| Storage Temperature Range | -40°F to 180°F (-40 °C to 85 °C) |
Environmental Ratings
| Exposure | Specification |
| --- | --- |
| Ingress Protection | IEC-62061 IP67 |
| Salt Fog | EP455 – 5.9 |
| Chemical Resistance | EP455 – 5.8 Brush Water, engine oil, battery acid, gasoline, diesel fuel, bleach, antifreeze, pressure washer detergent, hydraulic fluid, glass cleaner with ammonia, engine cleaner/degreaser, and DEET (10%) |
Configurations
Rotary Ignition Switch
Delta's rotary ignition switches are used to start and stop small internal combustion engines and electric vehicles and to switch accessories on and off by controlling the make and break of up to seven connections. Snap-in models have a bezel that can include molded or printed graphics and can be customized to match your panel. Switch actuation is by a non-coded key.
Features
Two, three, and four positions
Nut and snap mount available
Variety of standard circuit configurations available
Custom circuit configurations available
Customizable Graphics
Environmental Ratings
| Exposure | Specification |
| --- | --- |
| Salt Fog | ASTM B117. 96 hours, exposure |
| Dust / Water Ingress | IEC 60529, IP55 (front), IP53 (back) |
| Chemical Resistance | ASTM Ref C Fuel, Diesel Fuel, Oil, Antifreeze, Freon, Paint, Latex, Gasoline, Gas with 10% ethanol, WD-40, Battery Acid, Ammoniated Glass Cleaner, Kerosene, GOJO, Fertilizer |
Configurations
| Product Line | Part number | Mount | Keyway | Graphics | # of Positions | Available Terminals | App Prints |
| --- | --- | --- | --- | --- | --- | --- | --- |
| Rotary Ignition Switch | 6850-21 | Nut | Plastic | None | 2 | M, G | |
| Rotary Ignition Switch | 6850-22 | Nut | Plastic | None | 2 | M, G | |
| Rotary Ignition Switch | 6850-31 | Nut | Plastic | None | 3 | M, G, B, S, L | |
| Rotary Ignition Switch | 6850-36 | Nut | Plastic | None | 3 | M, G, B, S, L, A | |
| Rotary Ignition Switch | 6850-37 | Nut | Plastic | None | 3 | M, G, B, S, L | |
| Rotary Ignition Switch | 6850-47 | Nut | Plastic | None | 4 | M, G, B, S, L, A1, A2 | |
| Rotary Ignition Switch | 6900-21 | Snap | Plastic | None | 2 | M, G | |
| Rotary Ignition Switch | 6900-21P | Snap | Plastic | Printed | 2 | M, G | |
| Rotary Ignition Switch | 6900-22 | Snap | Plastic | None | 2 | M, G | |
| Rotary Ignition Switch | 6900-31P | Snap | Plastic | Printed | 3 | M, G, B, S, L | |
| Rotary Ignition Switch | 6900-36M | Snap | Plastic | Molded | 3 | M, G, B, S, L, A | |
| Rotary Ignition Switch | 6900-37 | Snap | Plastic | None | 3 | M, G, B, S, L | |
| Rotary Ignition Switch | 6900-37M | Snap | Plastic | Molded | 3 | M, G, B, S, L | |
| Rotary Ignition Switch | 6900-37P | Snap | Plastic | Printed | 3 | M, G, B, S, L | |
| Rotary Ignition Switch | 6900-47 | Snap | Plastic | None | 4 | M, G, B, S, L, A1, A2 | |
| Rotary Ignition Switch | 6900-47M | Snap | Plastic | Molded | 4 | M, G, B, S, L, A1, A2 | |
| Rotary Ignition Switch | 6900-47P | Snap | Plastic | Printed | 4 | M, G, B, S, L, A1, A2 | |
| Rotary Ignition Switch | 6900-47PG | Snap | Plastic | Printed | 4 | M, G, B, S, L, A1, A2 | |
| Rotary Ignition Switch | 6900-49P1 | Snap | Plastic | Printed | 4 | M, G, B, S, L, A1, A2 | |
| Rotary Ignition Switch | 6900-49P2 | Snap | Plastic | Printed | 4 | M, G, B, S, L, A1, A2 | |
| Rotary Ignition Switch | 6901-37 | Snap | Metal | None | 3 | M, G, B, S, L | |
| Rotary Ignition Switch | 6901-37P | Snap | Metal | Printed | 3 | M, G, B, S, L | |
| Rotary Ignition Switch | 6901-37P2 | Snap | Metal | Printed | 3 | M, G, B, S, L | |
| Rotary Ignition Switch | 6901-47 | Snap | Metal | None | 4 | M, G, B, S, L, A1, A2 | |
| Rotary Ignition Switch | 6901-47P | Snap | Metal | Printed | 4 | M, G, B, S, L, A1, A2 | |