New 7" Advanced Touch Screen Display offers Intelligence, Intuition—all at Drivers' Fingertips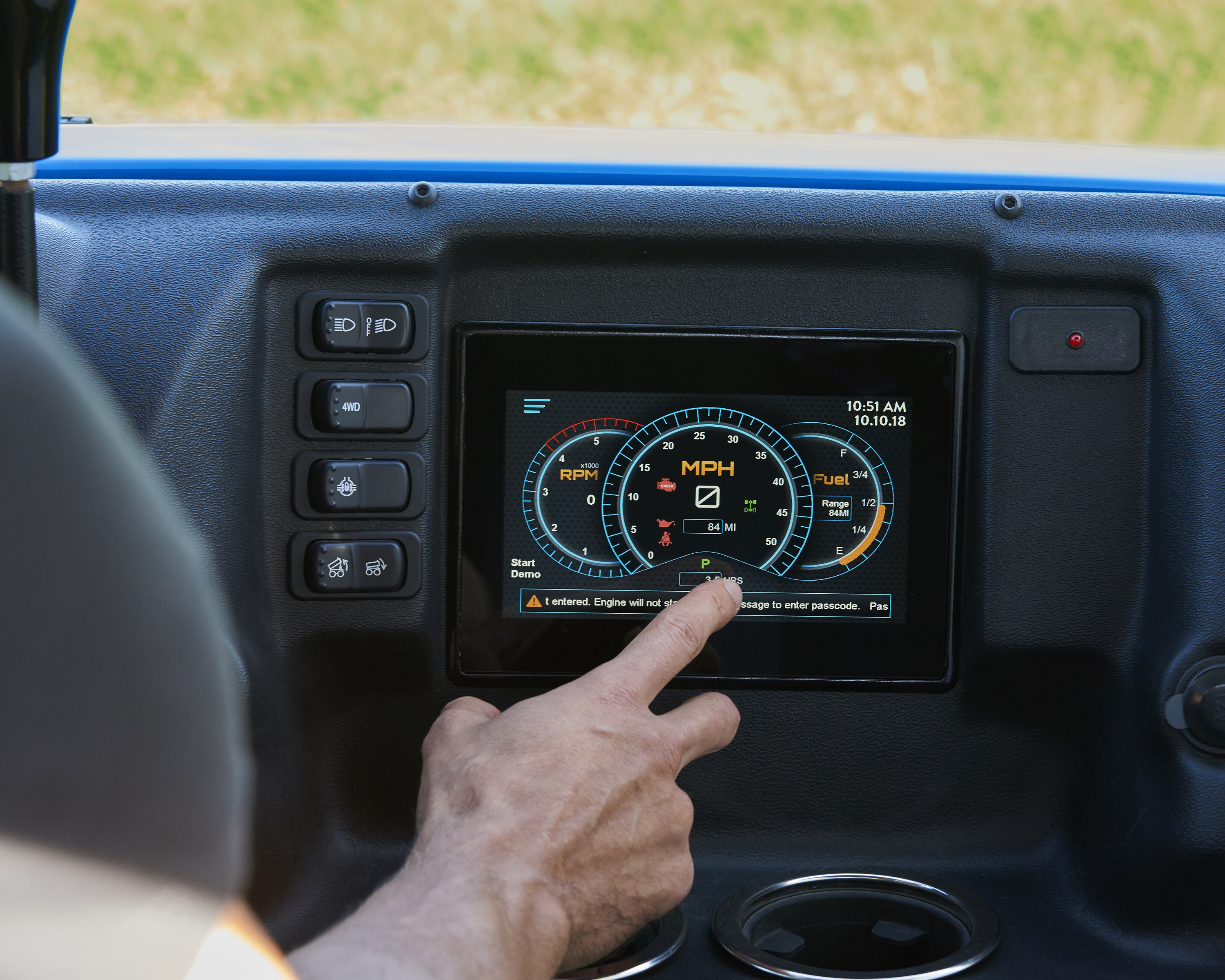 STREETSBORO, Ohio—April 5, 2019: Delta Systems Inc. has released its new CAN-bus capable, full-color 7-inch Advanced Touch Screen Display, designed to bring an operator-focused dashboard to keep drivers in command with the efficiency, technology and sophistication expected of today's modern equipment.
Perfect for Utility Vehicles, Power Sports Equipment, Outdoor Power Equipment, Light Industrial Equipment and more, this next generation Human Machine Interface (HMI) marks the future of machine maintenance and operator interface, providing at-a-glance notifications and simple operator interactivity. And as OEMs in various markets move toward complex equipment systems, today's smart machines offer maximum functionalities and controls. Now, Delta Systems' CAN-bus capable touch screen provides operators with a full view of functionality with a seamless and intuitive interface, making vehicle and equipment troubleshooting and safeguarding a breeze.
"Like many of our dashboard innovations, our new 7-inch touch screen display is designed to bring a more 'automotive-like' feel to equipment drivers and operators," said Michelle Specht, Delta Systems' Product Manager. "This trend has been gaining traction with our OEM customers as they want to differentiate their products and give operators a more human-centric experience. This color touch screen helps manufacturers simplify their dashboards, while bringing a sophisticated and familiar experience to end-users."
The Advanced Touch Screen also helps with maintaining equipment reliability, triggered by time, events or meter readings. Periodic maintenance can be planned on a routine basis while planned maintenance can be initiated by the results of predictive or periodic activities, Specht said.
The 7-inch Advanced Touch Screen Display offers customizable (screen/display) outputs, including safety interlock, position sensing, engine monitoring, diagnostics, starting systems, systems monitoring and more. This customization allows OEMs to perfectly tailor their displays to their applications, making it a cost-effective solution that doesn't have them paying for functionality they don't need, Specht said.
Delta Systems' full-color touch screen offers:
Unparalleled Data Access – Provides quick notifications of malfunctions, errors, safety interlock status, maintenance reminders and more, for monitoring, regulating and preventative maintenance.
Efficiency – Gathers data from multiple sensors, replacing the need for various gauges and indicators.
Ease of Use – Offers a simplified cockpit with an intuitive and interactive operator experience and is easily operated wearing gloves!
Rugged Durability – Features an IP67-rated, sealed design, assuring protection from water, dirt, oils and other contaminants that can reduce part life.
Customizable Features – Offering in-house customizations, allowing OEMs to tailor the data and appearance by application, with the need for changing dashboard hardware.
Another important element of this new 7" Advanced Touch Screen display, according to Specht, is that it's the perfect platform for next level growth when it comes to adding additional functionality. Beyond just CAN-bus communication, this interface can be used to add advanced safety features such as Rear Backup Cameras, Object Detection solutions and start-up passcodes. Even Bluetooth® capability is an option for monitoring vehicles via smart devices and an app.  
"We're very excited to offer this level of utility and style for applications where the price point has traditionally not made it a feasible solution," Specht said.
About Delta Systems:
Delta Systems designs and manufactures the SAFEST, MOST RELIABLE, and INSPIRED electronic component solutions that never quit. Our switches, controls, interfaces and connectivity innovations deliver exceptional performance and durability, providing next gen usability to make equipment operators' lives more manageable and productive—all while keeping them out of harm's way.  We have been partnering with our customers, such as MTD Products, John Deere, and Husqvarna Outdoor Products, to provide innovative solutions to the Outdoor Power Equipment industry and adjacent markets for more than 40 years. Each of our innovations comes with decades of design engineering and manufacturing history, which gives us a unique perspective on the shifts in expectations for our OEM customers and end-users. With a systems approach verses a component approach, we're reinventing operators' experiences and developing electronics solutions for new buyers and new engines/technologies.