Delta Systems' Brings Fresh, Automotive-styled Solutions to Outdoor Power Equipment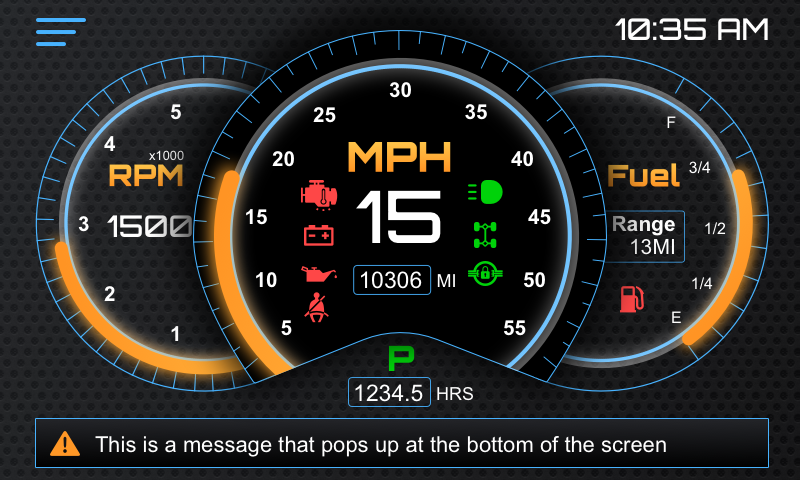 STREETSBORO, Ohio—Oct. 4, 2018:  Delta Systems, a manufacturer of switches, displays and controls for outdoor power equipment (OPE), is unveiling its new, automotive-like line of dashboard components, aimed to meet operator/driver demands for equipment that refined in both comfort and performance.
Delta is debuting its new components on a "Tech UTV", a utility vehicle outfitted with Delta switches, interfaces and connectivity solutions at the 2018 Green Industry + Expo in Louisville, KY, Oct. 17-19. The UTV provides the perfect backdrop to showcase Delta's designs, which offer the fit and finish of the automotive market, paired with the quality and durability that operators expect. From a wireless winch control to a CAN-bus capable 7" color, touch screen display, Delta's next generation of Human Machine Interface (HMI) components are designed with safety, style and convenience in mind. These innovations bring an advanced yet cost-conscious portfolio of sleek, instinctive designs.
"Everything we're showcasing at the GIE show is about creating a differentiated experience for OPE equipment drivers and operators," said Michelle Specht, Delta Systems' Product Marketing Manager. "People are looking for simple, seamless solutions that are intuitive. This added comfort and familiarity, paired with durability, is what helps make people's lives easier and more productive."
Delta's "Tech UTV" features six new Delta designs with a focus on style, convenience and safety:
Advanced Touch Screen Display – This new CAN-bus capable 7" Advanced Touch Screen Display provides an operator-focused dashboard that keeps drivers in command with the efficiency, technology and sophistication expected of today's modern equipment. This next generation Human Machine Interface (HMI) marks the future of machine maintenance and operator interface, providing at-a-glance notifications and simple operator interactivity.
Push Button Ignition Switch - Delta brings automotive styling, convenience and improved reliability to the outdoor power equipment market with our striking new Push Button Ignition Switch. This switch marries utility and grace, with its simple, straightforward design and a rugged, sealed interior that's built to withstand grime and water. Its IP67 rating raises the bar in both performance and convenience.
Wireless Winch Control - Delta's Wireless Winch Control allows an operator to safely activate a winch from a distance with a convenient wireless remote or smart device. Using our Delta Blue Technology™, our winch control is adaptable to any brand unit.
Power Inverter – Portable power makes your world a lot more free, and helps you do the job others can't. Delta has designed our 1500W Power Inverter to minimize limits and maximize versatility, durability and convenience. Using the equipment's engine, our Power Inverter changes DC power to traditional AC power, capable of allowing operators to power anything from power tools to work lights to personal electronics.
Object Detection – Delta's rear object detection system monitors a specific area around any type of equipment, sensing objects and providing warnings to equipment operators as they approach obstacles in reverse. Helping to avoid back-up collisions and protecting bystanders, our Objects Detection sensor module uses a rear-facing sensor that detects objects through ultrasonic waves.
Rear Backup Camera - Delta Systems' new rear backup camera gives equipment operators better visualization, helping them stay safe while also protecting their machinery and surroundings. The two-part system of a wide-angle camera and a digital dashboard display allows drivers to quickly locate objects behind them, eliminating blind spots.
Delta not only provides each of these solutions individually, but it also has the expertise to develop customizable control solutions to enhance the overall user experience.
Delta's new product designs debuting at the GIE 2018 show will be ready for customer testing in spring 2019, with these products available for OPE manufacturers in fall 2019.
About Delta Systems: 
Delta Systems designs and manufactures the SAFEST, MOST RELIABLE, and INSPIRED electronic component solutions that never quit. Our switches, controls, interfaces and connectivity innovations deliver exceptional performance and durability, providing next gen usability to make equipment operators' lives more manageable and productive—all while keeping them out of harm's way.  We have been partnering with our customers, such as MTD Products, John Deere, and Husqvarna Outdoor Products, to provide innovative solutions to the Outdoor Power Equipment industry and adjacent markets for more than 40 years. Each of our innovations comes with decades of design engineering and manufacturing history, which gives us a unique perspective on the shifts in expectations for our OEM customers and end-users. With a systems approach verses a component approach, we're reinventing operators' experiences and developing electronics solutions for new buyers and new engines/technologies.