We are knowledge-seekers and enjoy the discovery, the wonderment, and the challenge of crafting the next best thing. Our core values guide everything that we do in pursuit of making our products better and finding new solutions to make people's lives easier and more secure. Collaboration is key, and we value the opinion and ideas of all employees to continuously improve our processes and solutions.
We believe that creating a work-life balance is essential in fostering a successful company culture. We also believe in creating a culture that is both inclusive and friendly. Our success comes from individuals coming together to work toward a common goal in a supportive environment.
Delta Systems' Core Values
1.  Integrity is our number one value. We never sacrifice it.
2.  We make a difference by helping to produce safer products.
3.  People are the Delta Systems' greatest asset. Every employee has the opportunity to learn, to grow and to serve.
4.  We are professionals. We treat all with purpose, trust, dignity and respect.
5.  We achieve excellence by constantly reevaluating what we do and making continuous improvements.
6.  We hold each other and ourselves accountable for what is entrusted to us.
7.  We admit mistakes, learn from them and make amends.
8.  We strive to convert adversity into opportunity.
9.  We accept uncertainty, take risks and encourage positive change.
10.  Delta Systems is not for everyone. Hard work, responsibility, accountability and tenacity are expected.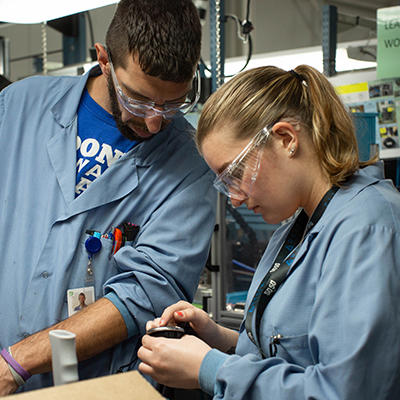 Safety
Our story begins with safety, and it's at the heart of what we do. Armed with 50 years of engineering excellence under our belt, we're dedicated to providing the best safety components to our customers with highly customized electronics solutions for various equipment applications.
But safety doesn't stop there. Delta Systems employees are encouraged to participate in our Workplace Safety Program and safety suggestions are rewarded. Safety is everyone's job. 
MONTESSIA 
Continuous Improvement Specialist
Delta Systems Employee Since 2004
"My favorite part about working here is that I get to learn something new every day. And my manager gives me the opportunity to do that. If you are willing to learn, there is always someone here who is willing to teach you."