eNVy Selects Delta Systems for New Touchscreen Dashboard Display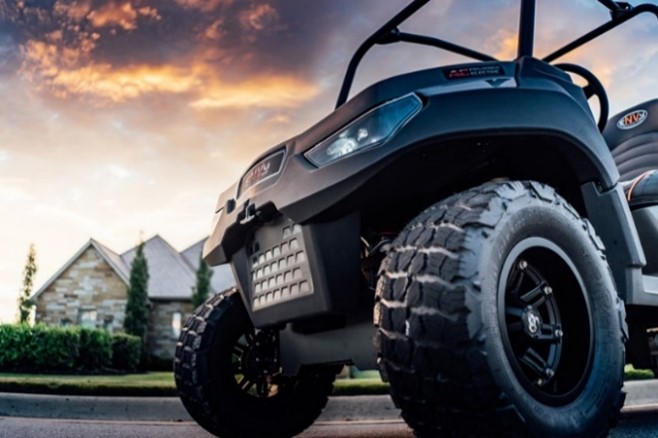 America's "Newest Crossover" is the ultra-quiet, electric-power eNVy® personal transport vehicle.
The Intimidator Group has a history of building incredible machines including the eNVy® neighborhood cruiser that can leave even the Joneses feeling jealous. Whether for a summer night's spin around the block, a day's work around the house, or a round at the local links, this personal transportation vehicle (PTV) is packed with impressive options for work and play or simply getting there in style. Bringing together all the features that owners want is no easy feat, however, with help from Delta Systems, Intimidator has become the envy of their competitors.
The right partner
Including UTVs, mowers and accessories, Intimidator makes machines to dominate the dirt and the turf. Since 2013, the company has created happy customers by customizing equipment to conquer their next outdoor activity. Nimble and adaptive, Intimidator values the same qualities in its suppliers, so when a new touchscreen dashboard display was needed for an exciting vehicle introduction, engineers turned to Delta Systems for its collaborative approach to product development.
"The original eNVy used a gasoline-powered engine; however, dealer feedback steered us to the electric drivetrain you see today," said Denny Gottschalk, development engineer for Intimidator. "Our utility vehicle was well received and once we fully embraced its potential as a street cruiser, one obvious problem was the noise created by the gas engine so we went to electric, but then the dashboard display wouldn't work."
Gottschalk explained that the 4-inch display standard on eNVy vehicles at the time was compatible only with factory-configured gasoline engines—Intimidator's novel EV platform would require an entirely new solution.
"The old displays were a bit small to begin with and just not a good fit any longer," he said. "We had a great relationship with Delta Systems who supplies switches for our mowers, and we felt that here's a partner who will listen to everything we want in this new display, whom we can trust to combine the best features and leave out the rest, to hit that lower price point.
"It's a balancing act really, anytime you're making major updates but have to keep costs in check. Not every supplier truly understands that, and we knew from experience how Delta's team is keyed into what we do, so it was easy to launch this project with them."
A custom solution
From the start, engineers for both parties collaborated on features that would make the eNVy appealing to owners seeking refinement from their PTV. To begin with, the Intimidator team wanted a big and bold dashboard display and liked Delta's proposal for a CAN-capable, 7-inch LCD touchscreen offering excellent sunlight readability.
"We were a bit cautious because we've had some larger screens on machines in the past, and those were pricey for the technical and quality issues we ran into," said Gottschalk. "One of our team actually saw the Delta unit at GIE+EXPO (now Equip Exposition) and came back here very excited because we just hadn't found that more dependable, capable touchscreen display yet, so that really kicked things off."   
Intimidator Group also liked the display's durable construction and IP67-rated sealed design that protects against water and dirt.
"We try to make all our connections sealed, that's critical for an outdoor vehicle," Gottschalk added. "Delta has this reputation for ruggedness, you might say, whether it's a switch or interface, so we got comfortable with the display pretty quickly and not running into things like a warranty issue later on."
What customers want
Next, the Intimidator team worked with Delta to design a passcode ignition system that makes the eNVy feel more like a modern automobile. No keys are required to operate the personal transport vehicle—owners simply enter a four-digit passcode. The display allows multiple passcodes for multiple operators who can dial up custom settings for acceleration rate, deceleration and maximum speed limit, allowing the eNVy to easily adapt to drivers of different experience levels.
"We have this term called 'creeping elegance' where the more you do with a device, the more you complicate it, but Delta was able to make these accommodations without a lot of the problems you might expect," said Gottschalk. "The project moved fast and because of that, we stayed on budget for the bang we're delivering to customers—this big, brilliant display you wouldn't expect in a utility vehicle necessarily."
When challenges did arise, Delta's engineers solved them efficiently while adding value to everything else eNVy delivers.
"In one scenario, a controller mode would wipe out the CAN input to the display where stepping on the brakes would override any turn signals you had on," said Gottschalk. "Delta helped modify the control scheme, so now the controller sends a signal to the CAN to tell it the brakes are coming on and the turn signals continue to flash just like on cars these days.
"Their team was constantly testing and improving things and sending us samples; even with the typical integration and development issues, Delta maintained its original cost commitment and that was huge."
A quick glance at Delta's bright, colorful display also informs eNVy owners of their current speed, battery charge and motor amps, with graphic indicators remaining easy to read even in peak daylight conditions.
"There's just a lot of functionality in this display, as much as you'll find in more expensive units without the features you don't really need, like GPS you already have on your phone, or maps that aren't supported by updates," said Gottschalk. "And it doesn't wash out in the sunlight, where with a lot of displays you just can't see anything. What's in there now and where we can go with it in the future, that's exciting."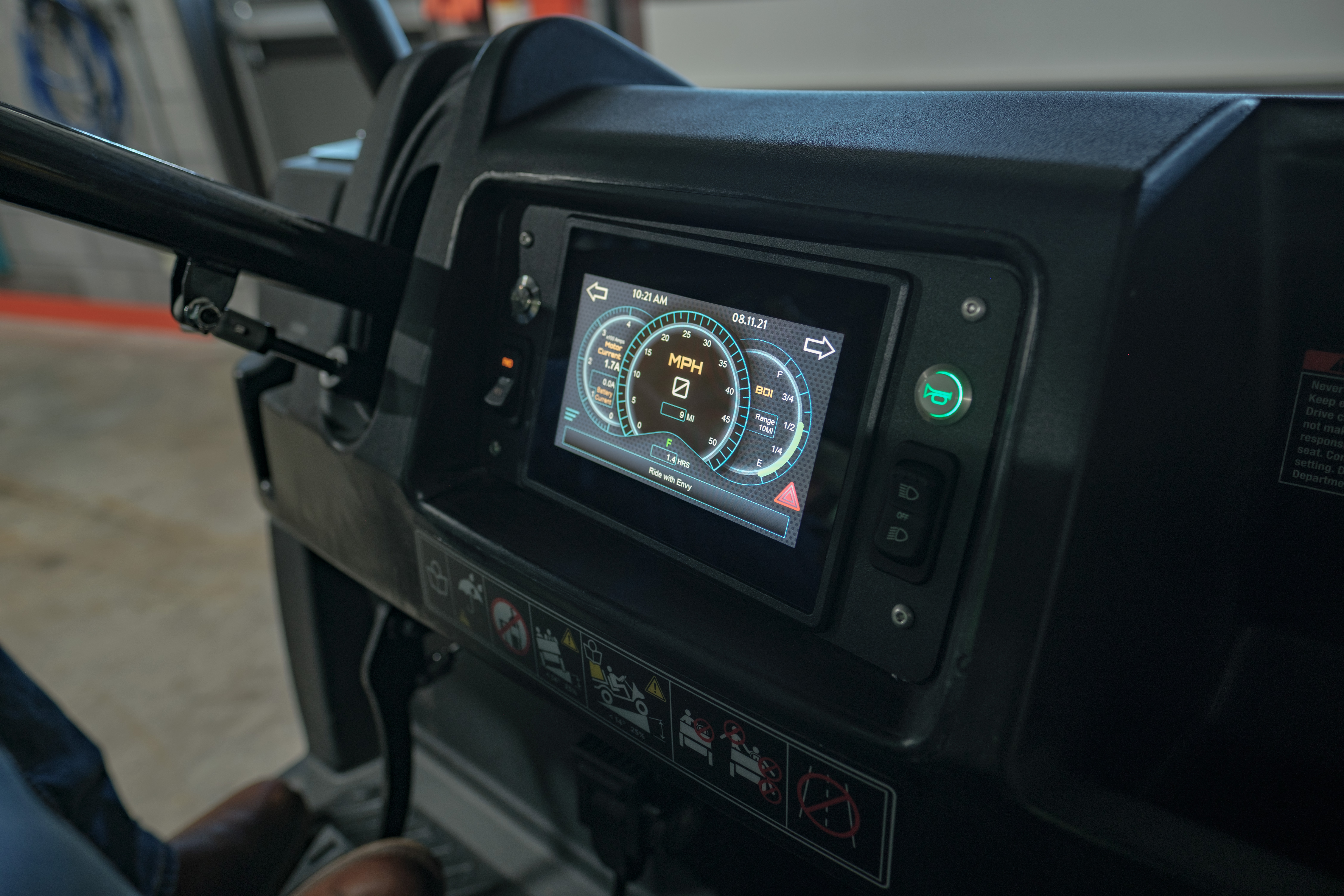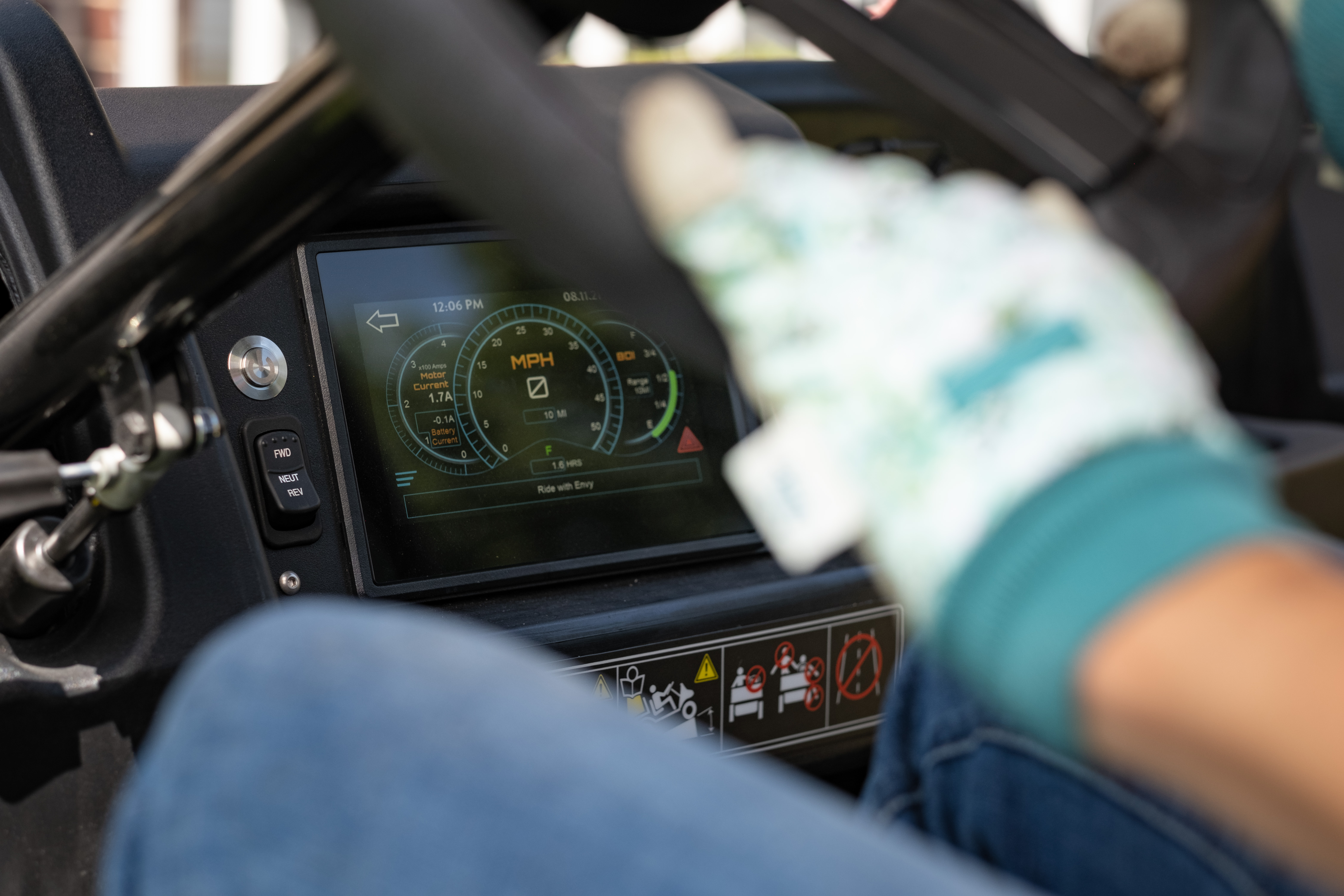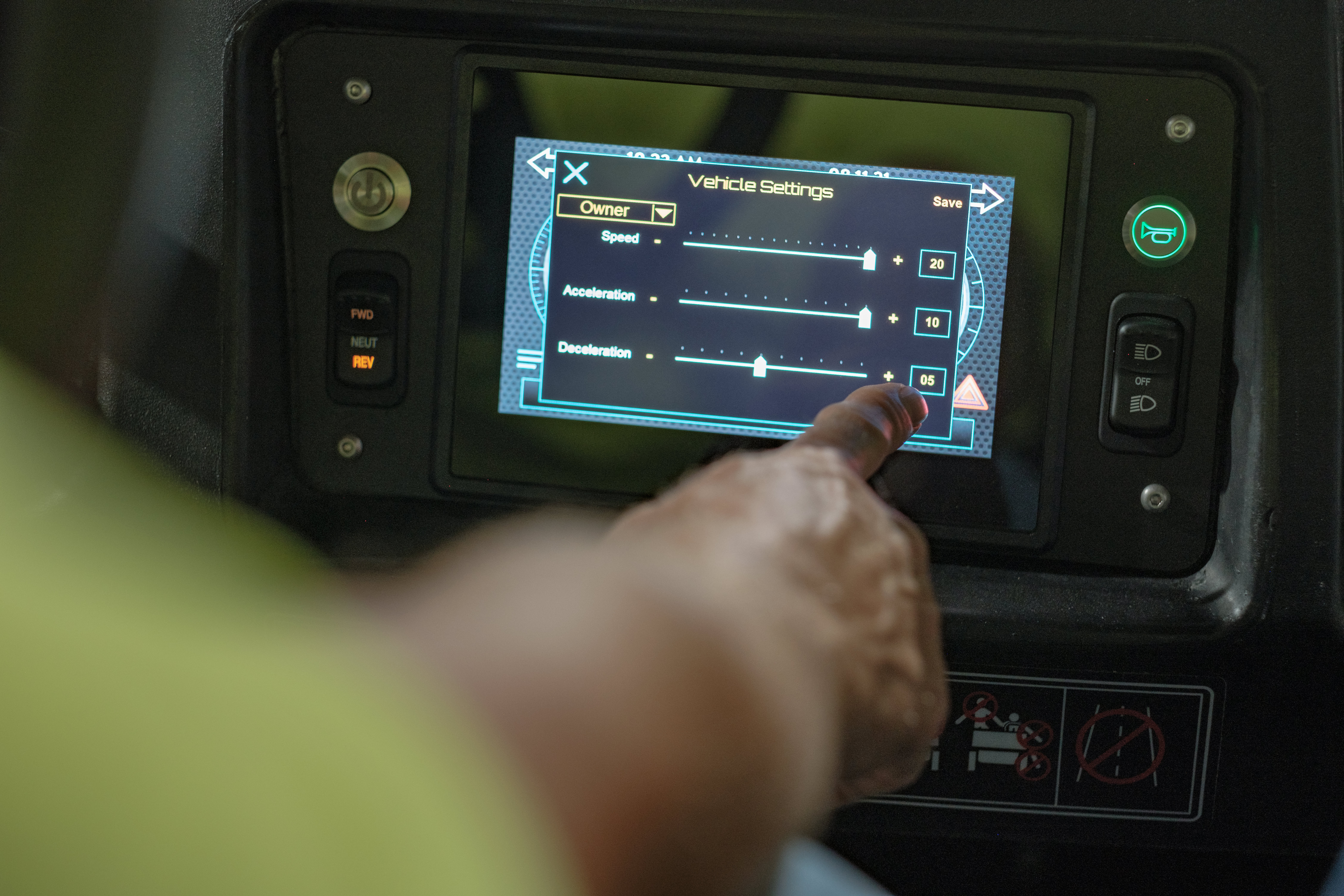 More to come
Standing out in a crowd of utility and personal transportation vehicle options is not easy, but the eNVy from Intimidator sports the style and serviceability owners want, thanks in part to an eye-catching dashboard display from Delta Systems that offers control at the touch of a finger.
Following a successful launch for the eNVy in 2020, Intimidator Group continues to evaluate its broader vehicle portfolio for similar opportunities to incorporate rugged yet refined displays into future designs.
"I see these vehicles getting smarter and smarter and more robust as far as dirt and moisture, and that's a perfect fit in terms of what Delta does for us," added Gottschalk. "We just felt that no matter what questions or requirements we had, their team had the answer."